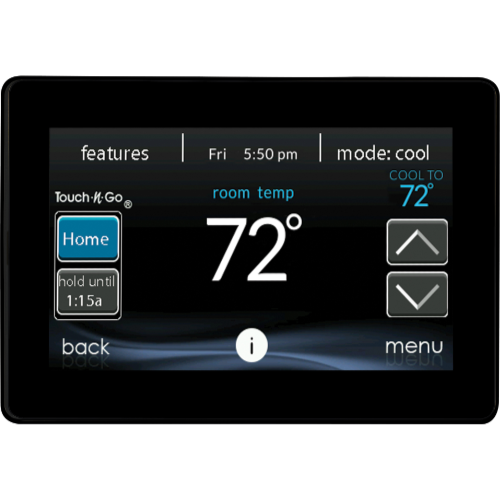 Carrier SYSTXCCITC01-C Smart Thermostat
Overview
The Infinity system control is designed for homeowners who understand the value of precision comfort and an easy to use, intuitive user interface. With Wi-Fi® connectivity and built-in smarts, the Infinity system control puts you in command of comfort and energy savings like never before.
As part of a complete, communicating Infinity system, this smart control takes full advantage of the best technology Carrier has to offer, including Greenspeed® technology and Hybrid Heat® system management. Taking your comfort well beyond temperature control, the Infinity System Control can manage humidity levels, airflow, ventilation, indoor air quality and up to 8 zones, from wherever you are, with a connected smartphone or tablet. It's also compatible with Amazon™ Alexa™.
Energy-conscious homeowners will especially appreciate the energy tracking and reporting, as well as the occupancy sensing ability that can automatically set the system back to maximize savings when you are away.
Simple, powerful and convenient, the Infinity system control takes your comfort to the next level.
Why This Smart Thermostat Is Right for You
Infinity System Compatible: Designed exclusively for our Infinity system products. This control is required to utilize all features of an Infinity system.
Energy-Saving Intelligence: Provides real-time energy use tracking. The system will also automatically and continuously adjust itself for advanced energy-savings performance.
Remote Access: Access your system from anywhere with the Carrier Home app for iOS® or Android® devices.
TOUCH·N·GO® SCHEDULING: This feature allows you to easily switch between programmed comfort settings – like home or away modes – as your needs change.
Smart Home Compatible: Works seamlessly with Amazon® Alexa®.
Zoning Control: Can manage up to eight zones with optional Infinity® zoning panel and remote sensors.