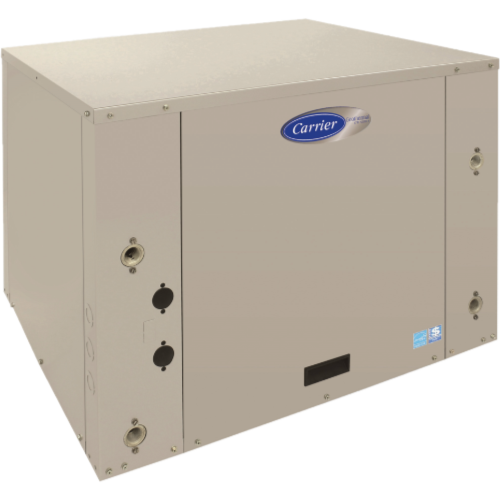 Carrier GW Geothermal Heat Pump
Overview
This geothermal heat pump delivers the comfort with hot water for your radiant or hydronic system. It can also help cut your costs for domestic hot water production.
If your needs extend to cooling, in some cases, this model's innovative design can also work in conjunction with a hydronic air handler to utilize chilled water to produce cool air for your home in the summertime.
Why This Geothermal Heat Pump Is Right for You
Energy Savings: ENERGY STAR® certified. Up to 25.7 EER for premium cooling energy savings and up to 3.8 COP premium heating energy savings.
Comfort Features: Enhanced comfort features for improved temperature control and more consistent comfort.
Humidity Control: Install with furnace or fan coil with a variable-speed blower motor for excellent humidity control. This combination can operate at lower speeds for longer times extracting more humidity from your indoor air.
Sound Performance: Varies based on the furnace/fan coil that is installed but this outdoor unit features sound reducing technologies for quiet operation.
Size: Available in various sizes that can accommodate most homes. Your Carrier expert will recommend the appropriate model to fit your needs.