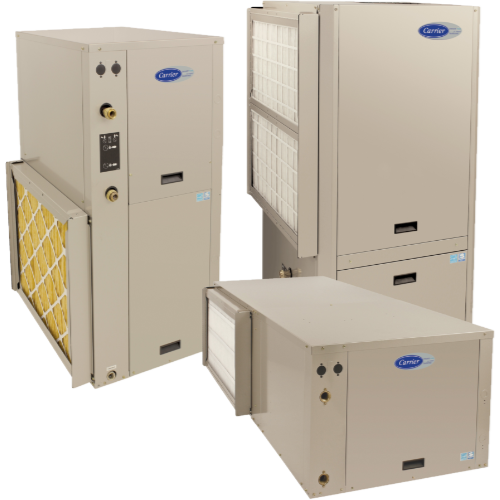 Carrier GP Geothermal Heat Pump
Overview
This Performance™ water to air unit is designed to deliver total-home comfort all year round. It includes comfort features enhanced by a variable-speed blower motor and a 2-stage compressor with an optional upgrade for supplemental hot water generation. Corrosion-resistant coil for long life, microprocessor control and quiet operation make this a great choice.
Why This Geothermal Heat Pump Is Right for You
Energy Savings: ENERGY STAR® certified. Up to 30 EER for premium cooling energy savings and up to 4.6 COP premium heating energy savings.
Comfort Features: Enhanced comfort features for improved temperature control and more consistent comfort.
Humidity Control: Offers excellent humidity control. Can operate at lower speeds for longer times extracting more humidity from your indoor air.
Sound Performance: Extremely quiet operation with a fully insulated cabinet to help minimize noise levels.
Size: Available in various sizes that can accommodate most homes. Your Carrier expert will recommend the appropriate model to fit your needs.