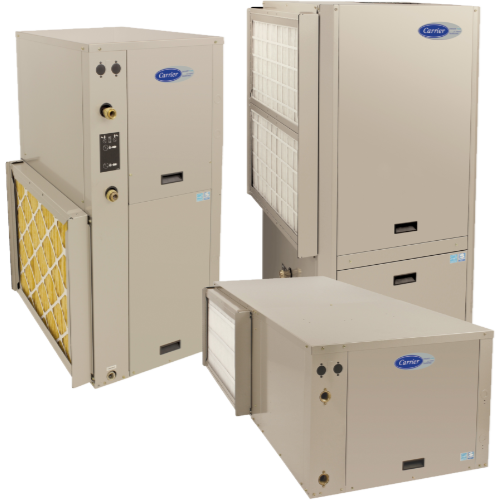 Carrier GC Geothermal Heat Pump
Overview
The Infinity® series GC model combines our highest efficiency closed- or open-loop systems with the smart, powerful and intuitive Infinity Touch control. These impressive forced-air or water-to-air systems offer the quiet, comfortable benefits of two-stage and variable speed operation; the versatile programming, energy tracking and wireless capabilities of Infinity Touch; and the superior energy savings of geothermal.
Why This Geothermal Heat Pump Is Right for You
Energy Savings: ENERGY STAR® certified. Up to 37 EER for premium cooling energy savings and up to 5.2 COP premium heating energy savings.
Comfort Features: Premium comfort features for more precise temperature control and fewer temperature swings.
Humidity Control: Offers excellent humidity control. Can operate at lower speeds for longer times extracting more humidity from your indoor air.
Sound Performance: Extremely quiet operation with a fully insulated cabinet to help minimize noise levels.
Size: Available in various sizes that can accommodate most homes. Your Carrier expert will recommend the appropriate model to fit your needs.