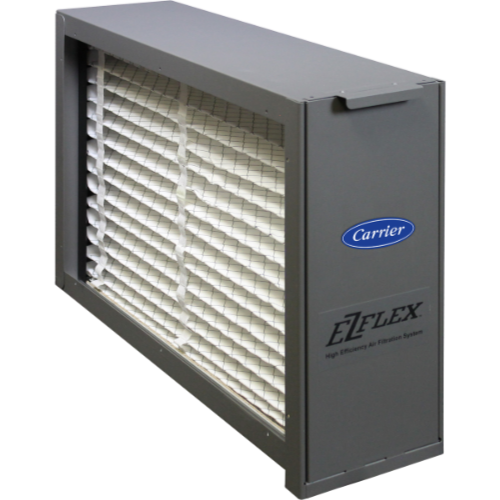 Carrier EZXCAB Air Purifier
Overview
The EZ Flex system provides whole home air filtration using a high efficiency filter. The deep-pleated style of its MERV 10 filter keeps air flowing while removing 63% of airborne particles in micron size range 1.0 to 3.0.
Why This Air Purifier Is Right for You
Whole-Home Filtration: Works silently in-line with your HVAC system to help clean the air by removing particles that can circulate throughout your home.
Filtration Efficiency: Ships with MERV 10 and MERV 13 upgrade available. Minimum Efficiency Reporting Value (MERV) ratings range from 1-16 and the higher the MERV rating, the fewer particles and other contaminants can pass through the air filter.
Size: Available in various sizes that can accommodate most homes. Your Carrier expert will recommend the appropriate model to fit your needs.