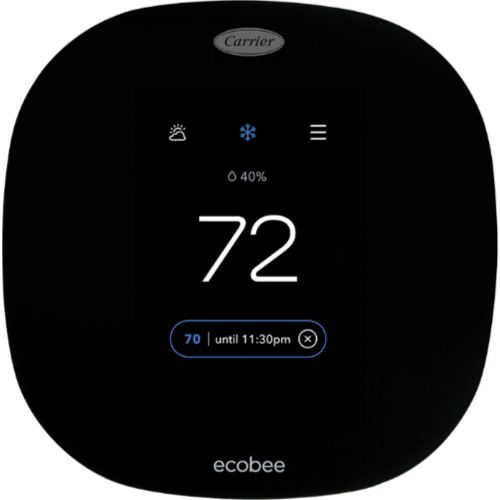 Carrier EB-STATE3LTICR-01 Smart Thermostat
Overview
The ecobee for Carrier ecobee3 lite smart thermostat is a stylish and savvy choice when adding a smart thermostat to your home. Pair your smart thermostat with InteliSense-enabled Performance™ Series equipment, opt-in to data sharing, and enjoy the benefits of connected comfort. InteliSense technology gives your dealer the ability to remotely view the operational health of your system and use digital tools to provide more efficient customer service and remotely troubleshoot your system.
The ecobee 3 lite tailors itself to your schedule, your personal comfort preferences and the weather outside. It can also provide details on savings each month and insight into your heating and cooling equipment performance.
Why This Smart Thermostat Is Right for You
InteliSense™ Technology: Allows for critical equipment performance data to be gathered and shared with your dealer who can reassure you that your system is running properly. Simply grant permissions for data sharing and watch an improved customer experience come to life.
Energy-Saving Intelligence: Can save you up to 23 percent in annual energy costs.
Remote Access: Access your system from anywhere with your Apple® or Android® devices.
Smart Home Compatible: Works seamlessly with third-party smart home platforms such as Apple® HomeKit®, Amazon® Alexa®, Google® Assistant, Samsung® SmartThings® and IFTTT®.