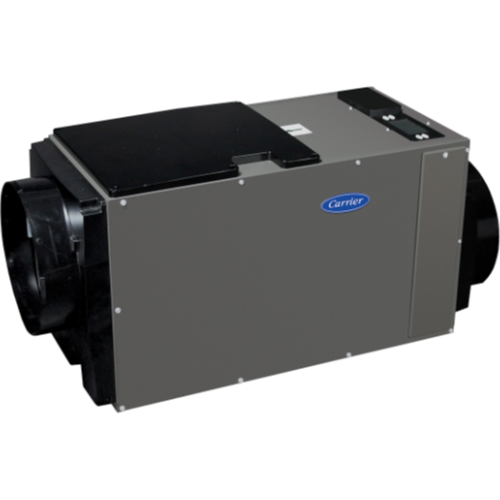 Carrier DEHXX Dehumidifier
Overview
Managing indoor humidity is important to creating a comfortable, healthy indoor environment. Too much humidity can encourage mold growth and create a cozy home for dust mites and other pests to thrive. High humidity can make you and your wallet uncomfortable too because you'll tend to want the cooling temperature lower than you need for comfort so your system has to work harder to keep up.
The Carrier® Performance series dehumidifier is available in two sizes so regardless if you need a whole-home solution or just have a humid basement, you'll have dehumidification that's just right for your needs. Both sizes work quietly to wring out humidity from the air so you can save on utilities and be comfortable. And, they're designed to be configurable with your existing system in a multitude of ways or operate independently away from your system if space is a problem.
Why This Dehumidifier Is Right for You
Humidity Control: Enhanced humidity control that can remove up to 95 pints of moisture per day.
Filtration Efficiency: MERV 8 filter is to help keep the internal components clean.
Installation: Can be installed as part of a system or standalone.
Size: Available in two sizes that can accommodate most homes. Your Carrier expert will recommend the appropriate model to fit your needs.