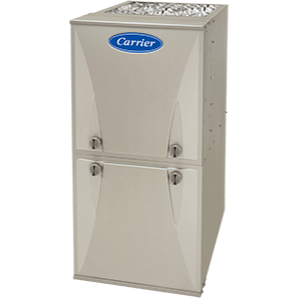 Carrier 59SC5 Gas Furnace
Overview
The Comfort™ 95 condensing gas furnace delivers on energy efficiency, achieving 96.5% AFUE. The ECM blower motor is electrically efficient and additional speed options enhance comfort. It can deliver the warmth and is designed to save you money.
Why This Furnace Is Right for You
Energy Savings: Up to 96.5% AFUE for premium energy savings.
Comfort Features: Standard comfort features to help keep you warm and comfortable.
Humidity Control: Offers standard humidity control.
Sound Performance: Quiet operation.
Fuel Type: Natural gas. Can be converted to liquid propane by installing an optional propane conversion accessory kit.
Size: Available in various sizes that can accommodate most homes. Your Carrier expert will recommend the appropriate model to fit your needs.