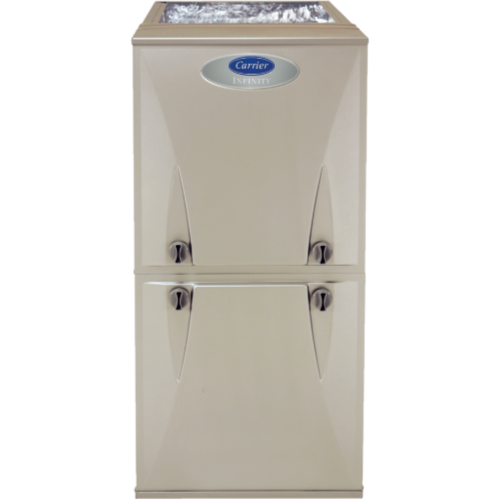 Carrier 59CU5 Gas Furnace
Overview
Our ultra-low NOx furnace is the great choice for up to 95% AFUE comfort inside and reduced NOx emissions outside to meet or exceed California's South Coast Air Quality Management District (SCAQMD) and San Joaquin Valley Air Pollution Control District (SJVAPCD) new requirements for dramatically reduced NOx emissions.
As part of a complete, year-round comfort system, this variable-speed furnace delivers more optimized airflow to your living spaces .
And, if you combine our ultra-low NOx furnace with a compatible thermostat and Carrier® heat pump, you'll enjoy the additional comfort and efficiency benefits of a Hybrid Heat® system.
Why This Furnace Is Right for You
Energy Savings: Up to 95% AFUE for enhanced energy savings.
Comfort Features: Standard comfort features to help keep you warm and comfortable.
Humidity Control: Offers excellent humidity control when paired with an Infinity® air conditioner or heat pump.
Sound Performance: Quiet operation with a fully insulated cabinet to help minimize noise levels.
Fuel Type: Natural Gas
Size: Available in various sizes that can accommodate most homes. Your Carrier expert will recommend the appropriate model to fit your needs.